EXPERIENCE. CONSISTENCY. SUPPORT.
For nearly 2 decades,1 patients and their healthcare providers have trusted Remodulin to help reduce PAH symptoms and help patients have more active lives.
United Therapeutics has been consistently manufacturing Remodulin since its introduction in 2002. During that time, there have been no supply interruptions for Remodulin, due to our commitment to hold a 2-year supply of inventory at all times.
Our story
Remodulin is produced by United Therapeutics Corporation, a medical biotechnology company, founded by Martine and Bina Rothblatt in 1996, after their daughter's PAH was diagnosed. United Therapeutics was born from a very personal and passionate desire to develop medicines that could help their daughter and others suffering from this rare disease.
United Therapeutics is committed to innovation in the treatment of PAH and helping patients live with PAH. United Therapeutics supports HCPs and patients who are being treated with branded Remodulin with support programs, such as SPmix, financial assistance, referral support, and Specialty Pharmacy nursing support.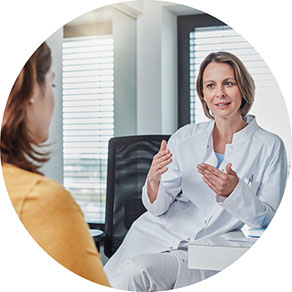 WHY REMODULIN?
Experience
Nearly 2 decades of clinical experience1
Consistency
No supply interruptions since launch in 2002
Support
United Therapeutics provides support for your patients
Ensure your patient receives your choice of treatment
When you want to ensure patients receive Remodulin, indicate "Dispense as Written, Brand Medically Necessary, and No Substitution" in the space provided on the PAH Referral Form as shown in the example below.
PLEASE NOTE: The rules for writing DAW will vary by state. Our DAW Requirements Guide can help you find your specific state or territory requirements. Be sure to include the required language for your state to ensure that branded product is dispensed.
Referral Form Signature Example

State's or territory's DAW requirements
A state's or territory's DAW requirements may help you preserve your choice for branded medication if you decide that it is the right option for your patients.
Specific wording for DAW may vary by state, such as "Brand Medically Necessary" and "Do Not Substitute."
Use our DAW Requirements Guide to find your specific state or territory requirements.
DAW=dispense as written; PAH=pulmonary arterial hypertension.