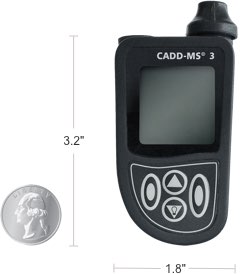 Remodulin CADD-MS® 3 Pump
With its compact size and integrated functions, CADD-MS 3 has been used to deliver Remodulin subcutaneously for over 18 years.
Benefits of CADD-MS 31
Only 3.2" x 1.8" x 0.95"—about the size of a pager
The CADD-MS 3 can be clipped to a waistband, held in a pouch, or hidden under clothing
Programmed directly on the pump
Water-resistant casing
Each cartridge holds up to a 3-day supply of Remodulin
Appropriate for patients who are titrating or on a stable dose of Remodulin
Training
United Therapeutics Representatives are available if you need additional information or training on the administration of Remodulin.
Request a Rep
Download the Remodulin Referral Form and specify that your patient is to receive the CADD-MS 3 pump.
IV=intravenous; SC=subcutaneous.