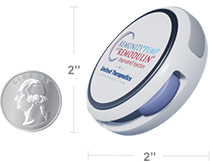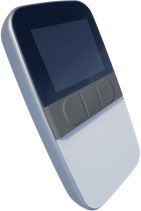 Shown: Wireless remote
Remunity™ Pump for Remodulin®
(treprostinil) Injection
Small
Remunity is 2" in diameter, 3/4" thick, and weighs only 1.7 ounces. It easily fits on a belt or in a pocket and is programmed wirelessly by a separate, small remote.
Simple
Prefilled Remodulin cassettes are shipped to patients by a Specialty Pharmacy. Each cassette contains up to 3 days (72 hours) of medication. Patients simply prime the cassette, twist to lock it to their pump, and go.
Safe
First-of-its-kind acoustic volume-sensing technology1 within a closed-loop system provides continuous, accurate dose delivery of Remodulin. A special internal chamber fills, measures, and verifies the intended dose.
Have additional questions?
Request a United Therapeutics Representative for additional information about Remodulin.
Informative video about the benefits of REMUNITY
Remunity Announcement
Learn more about the latest pump offering for Remodulin.
For Important Safety Information on Remunity, please click here.