Remodulin Pump Systems
At United Therapeutics, we are committed to transforming patient expectations for life with pump therapy. We strive to bring innovation to PAH treatment that goes beyond delivering therapeutic excellence, including an ongoing investment in state-of-the-art delivery systems.
Training on each pump is available through Specialty Pharmacies, SP nurses, and United Therapeutics Representatives.
Pump system options are available
There are different types of pump systems for administration of Remodulin: subcutaneous (SC) and intravenous (IV).
Explore more information about the SC Remodulin pump options from United Therapeutics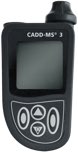 CADD-MS® 3
The all-in-one pump
Learn More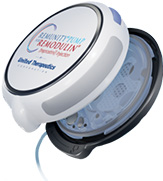 Coming soon—Remunity™
The small, simple, and safe SC prefilled pump that is water resistant and provides state-of-the-art dosing accuracy
Learn More
Learn more about the IV Remodulin pump option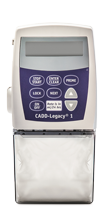 CADD-Legacy® 1
Reliably delivering Remodulin since 2004
Learn More
The Implantable System for Remodulin (ISR)
Implantable System for Remodulin (ISR)*
Learn More
*FDA requires that certain conditions of Medtronic's PMA approval of the Implantable System for Remodulin must be satisfied prior to launch or sale of the Implantable System for Remodulin; accordingly, Implantable System for Remodulin labeling may be revised in the process of satisfying such conditions for approval.
PAH=pulmonary arterial hypertension; PMA=premarket approval; SP=Specialty Pharmacy.