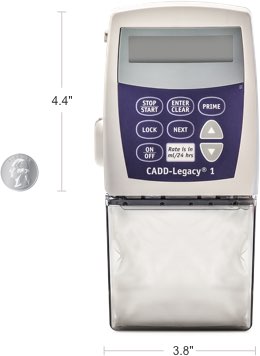 CADD-Legacy® 1 PCA ambulatory infusion pump—for continuous delivery of IV Remodulin
The CADD-Legacy® 1 PCA ambulatory infusion pump is proven for continuous IV delivery of Remodulin and other medicines.
Benefits of CADD-Legacy® 1 PCA ambulatory infusion pump1
Easy-to-read display that provides information for programming adjustments and troubleshooting
Reliability and durability can mean less downtime and fewer interruptions of therapy
Appropriate for patients who are titrating or on a stable dose of Remodulin
Up to 2 days between pump refills2
Requires patient to dilute Remodulin with diluent and then fill the pump in a sterile field for each refill3
Option to have a 7-day supply of Remodulin shipped to patient's home
Download the Remodulin Referral Form and specify that your patient receives the CADD-Legacy® 1 PCA ambulatory infusion pump.
Mixing Options

On-demand mix at each cassette change (every 2 days)

Premix a 14-day supply with a simple premixing schedule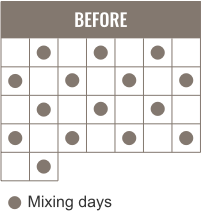 Simple premixing schedule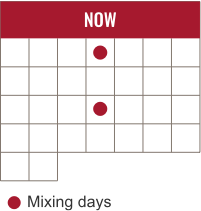 SPmix delivers weekly shipments to eligible patients
Before introducing the topic of premixing with a patient:
Carefully consider your patient's dosing schedule, mixing proficiency, and diluent
Be sure to contact Specialty Pharmacy Services. SPS can answer any questions they may have about premixing and supply the necessary diluent needed for 14-day premixing. Be sure to inform the SP if you deem a patient appropriate for premixing at home
Remind patients to continue to change the reservoir at least every 2 days.
Be sure to share the following information with your patients
14-day premixing should be done only with high-pH glycine diluent. Remodulin cannot be stored for 14 days when mixed with sterile water for injection or 0.9% sodium chloride injection (only 4 hours at room temperature or 24 hours refrigerated)3
Reservoir tubing should be capped before storage
Do not use reservoirs that have been stored for more than 14 days
Use extension tubing with a filter

The CADD-MS® 3 ambulatory infusion pump should not be used for premixing
IV=intravenous; SP=Specialty Pharmacy.
Remodulin SPmix Program
The Remodulin SPmix Program delivers up to 7 days of premixed IV Remodulin and all necessary supplies to your patients' homes each week.